Allo and Duo will live alongside Hangouts and Messenger for Google
18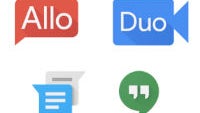 Google announced two big new messaging apps today --
Allo
and
Duo
-- for better experiences with text conversations and video chats, respectively. The apps each have some interesting features that
make them stand out
, but it was a bit curious what these new additions would mean for Google's Hangouts and Messenger apps.
A new report says that the new additions to Google's app roster will mean nothing for Hangouts and Messenger. Supposedly, Google has confirmed that all four apps will coexist peacefully. Google said that it will continue to invest in Hangouts and keep it separate. This does make sense, because while Allo looks interesting, it is more in the model of WhatsApp -- an internet-based messaging system tied to your phone number, but doesn't handle SMS.
Now, this doesn't necessarily mean that all of the apps will remain separate forever. Given that Hangouts does web chats in addition to SMS handling and can do video chats as well, it doesn't make a whole lot of sense to have Allo and Duo splitting the market. Depending on adoption, we still wouldn't be surprised to see a merge in a year or two, or for Hangouts to disappear and give way to Messenger for SMS and Allo for instant messaging.
Recommended Stories