Alleged next iPhone component shot reveals Apple A5 chip
30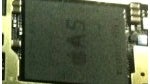 Now we don't know if this is supposed to show the internals of the next iPhone, or the rumored affordable version,
dubbed iPhone 4S
, and we also can't vouch if this is real at all, but we were sent a link to a snapshot posted on Weibo, which is China's take on Twitter, that shows
an A5 marking on the chipset
.
It is not an iPad 2 chip, since it looks rather different, as you can see in the
iFixit teardown pictures
below. It bears some resemblance to the current chipset layout in the iPhone 4, but is different than the A4 as well.
In fact, the picture looks like another one that leaked a few weeks ago, again claiming that this is the iPhone A5 chipset, which we are placing on the right of the current Weibo leak below for comparison.
The A5 logo seems a bit fishy, with spilled borders of the letter "A", and not painted, but the shot is also pretty blurry, so make of it what you will. The battery part is interesting, too, as the part of the battery capacity that is visible reads x430 mAh.
Now we know the iPhone 4 has around 1420 mAh battery, but Apple doesn't write it directly like that on the outside of the juice pack, but rather stamps the voltage and the Whr, from where we can deduce the capacity in mAh.
If this is a prototype, of course, the capacity might be stamped directly in mAh on the battery pack, or Apple might be taking a different approach this time around. In any case, if this shot is for real, it is just another confirmation that Apple will use a
dual-core chip
in its next iPhone (s).
Thanks for the tip!
source:
Weibo
(translated)
Recommended Stories