Alleged Xperia Z3 Compact pics leak out, reveal rugged beauty in a scaled chassis
16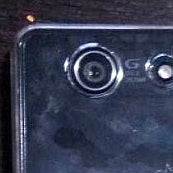 We've barely had the
Z2
out of the door, and it's not that we've had many hints on an Xperia Z2 Compact just yet, but Sony is apparently already mulling the reveal of both a
Z3 and a Z3 Compact
sidekicks. We just got the invitation from Sony about its scheduled
September 3 event at the IFA expo in Berlin
, where the Z3 will allegedly make a splash, and now a few pretty convincing pics are trickling down the rumor pipe, claiming they represent the Z3 Compact.
What we are seeing is a rectangular chassis styling in the general Xperia Z line tradition of late, with comparatively wide top and bottom bezels, and rugged good looks that indicate waterproof certification might be in store here as well. The back of the handset is hinting at perhaps the same high-res Sony camera with G lens that we've had since the Z1, next to a single LED flash. The eventual
Z3 Compact
is put in a transparent case, but it still looks pretty slim from the side, in line with Sony's conventional practice with both its flagships, and its midrangers now.
Given that the Z1 Compact is the best spec'd mini flagship edition out there, and no other can compare to its roster, even from this season's crop, it makes sense that a Z3 Compact might be next in the line of Sony's palm-friendly flagships, instead of a Z2 Compact. What do you think, is there any chance Sony will skip a "mini" generation, and introduce a Z3 Compact this fall?