Alleged Sony Xperia Z3/Z3 Compact get certified, new side pics emerge
12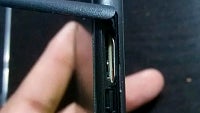 A few yet-unreleased Sony Xperia smartphone codenames have been certified by the Russian equivalent of the FCC, indicating a new crop of handsets is on the way from one of the world's biggest phone makers. While Sony D2533/D2502 has already been announced as the midrange
Xperia C3
, the rest are yet to come.
Rumor has it that the D6633/D6603 are
Xperia Z3
models, while the D5803 one is the
Xperia Z3 Compact
. Both are allegedly having 20 MP rear cameras and a waterproof chassis, but differing in screen size - 5.15" or 5.2" for the Z3, and 4.6" for the Z3 Compact, claims the source. As for the Sony D2403 marking, it is said to indicate a waterproof version of the
Xperia M2
, the so-called
M2 Aqua
. So far the rumored specs don't sound all that different from the current
Z2
, but Sony might have different extras in mind for us with the Z3, not just a specs upgrade.
Meanwhile, a couple of new photos leaked out, in addition to the
ones claimed to be from the Z3 Compact
, but those are now tagged as Z3, though it might be just for timesaving purposes, or it could be a prototype. In any case, make of it what you will, but they do show some new details of an upcoming Sony Xperia handset that haven't been revealed previously, like the card and charging ports under their respective protection flaps.