Buh bye, Best Buy cell phone stores, margins were good while they lasted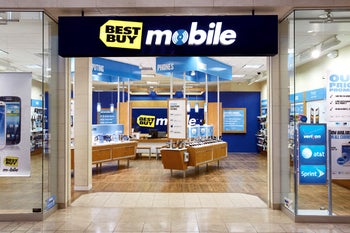 Best Buy is gearing up to shutter all of its dedicated cell phone stores that it has dispersed in malls around the country way before the first iPhone was even introduced. The reason? Well, they now cost more to operate than the big-box Best Buy store, and the profit margins on smartphones aren't that great anymore either. For the middle man, that is, not their manufacturers, which have been
raising prices
to offset a demand decline, which in turn offsets the demand even more, but we digress.
The sales from the 250 or so dedicated phone shops that Best Buy has around the US, are barely cracking a percentage point of its revenue, and these have to go now. People are increasingly buying smartphones on their smartphones, researching and ordering online from their carrier, or from Apple or Samsung, so a specialized store seems like a relic of the past.
Funny enough, people are often getting the new models directly, without even going somewhere to play around with them first, as even before a phone is announced now, more or less all the important design and specs upgrades are already known, and it is previewed extensively down to the smallest detail shortly after launch.
Back in 2011, Best Buy had the intention to open no less than 800 of those 1400 square feet stores around the country, but the consumer habits' shift, and the general demise of brick-and-mortar locations, have apparently nixed those plans.