All new HTC One (M8): all the official images
7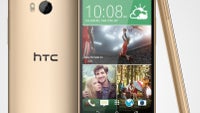 The new HTC One (M8) has leaked out so many times, that by the time of its official launch, you've probably seen countless of blurry, low-res images and videos of it. While most of these leaks seem to have been right on the money, problem with them is that they often presented the phone in such hazy, bad light that you'd carry over some negative thoughts about HTC's flagship itself from those images.
Relieve is, the new HTC One is now official, and the leaks are finally over. Instead of going through hazy images, you can now see truly gorgeous photographs of HTC's 2014 flagship and its intense metal body. The crafty work of the HTC gadget paparazzi, these official images of the new One present in the best possible light and from all angles.
It's something that a meticulously engineered all-aluminum, unibody device deserves, don't you think? Take a look at all the official images of the new HTC One right below.