All OnePlus 5 models go out of stock, is the OnePlus 6 coming soon?
39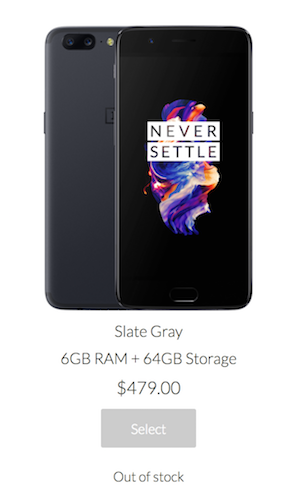 The OnePlus 5 is one of our top choices for an unlocked phone: the $480 phone looks and feels like a flagship, has incredibly zippy performance, a very good camera and solid battery life, but if you try to buy it now in the United States you will not be able to.
All OnePlus 5 models are now out of stock in the US and in other markets availability is very limited as well, so... does this mean we are getting the new OnePlus 6 soon? Or OnePlus 5T?
Last year, OnePlus unveiled its flagship OnePlus 3 in the middle of June 2016, and followed up with the OnePlus 3T just five months later in the middle of November 2016.
This year, OnePlus has unveiled the OnePlus 5 in the middle of June as well, and now it's already the beginning of October, so it is possible that the OnePlus 6 or 5T is indeed in the cards.
To add some context, let's mention that OnePlus is owned by Chinese giant BBK Electronics, which owns the brands Oppo and Vivo, and with all its brands combined ranks in the top 3 of the world phone makers by volume. And its two other phone brands - Oppo and Vivo - have already unveiled their new phones with minimal bezel, and OnePlus usually follows with similar designs.
So to understand what the next OnePlus phone will look like, simply take a look at the new Oppo F5 or the Vivo X20, chances are it will be a lot like one of these two.
Recommended Stories