Which Note 10/10+ color version would you get?
8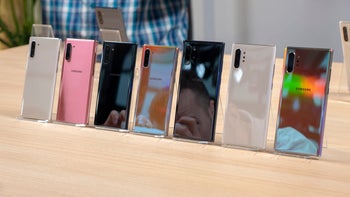 At first, the
leaked press images
of the
Galaxy Note 10
and
10+
handsets showed the shared chameleon
Aura Glow and Aura Black
colors,
as well as
the Aura whatever-shade-of-red-or-pink-or-salmon Samsung is prepping. Let's call it Aura Red for the sake of simplicity, though.
Afterwards, the plain white color, or Aura White, as Samsung is calling it, leaked out. All of those colors are now official in the press images from Samsung itself, and you can see the hues in the complete color palette of the Galaxy Note 10 and its larger sibling Note 10+ above.
So far, the differences in hues is that the Note 10 will get the Aura Red and Aura Pink hues you see below as exclusives, and the Note 10+ will get the Aura Blue, while the Aura Glow, Aura Black and Aura White will be shared between the Note 10 and 10+ bodies.
Samsung being Samsung, however, and if history is any indication, it shouldn't be long before it starts painting in additional colors to keep the interest fresh. Check out all the colors that the phones will be available at when they launch, and tell us which one would you get?
Recommended Stories