Full Note 10/10+ specs leak outs new S Pen features, colors, and battery capacities
56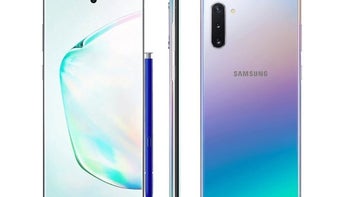 Well, well, well, unlike their design, so far we've been having educated guesswork on the Note 10 and its larger 10+ sibling's specs, but a new report from a source that has been right in the past, comes to fill in the blanks.
Armed with insider, the
Techmaniacs
holler from Greece to tip the final list of the Note 10's specifications. The battery capacity of the alleged smaller 6.3" model is a bit of a letdown, but Samsung will compensate with a 1080p display resolution, so battery life should be commensurate with the one of the larger, 6.8" version.
We'll spare you the introductory piecemeal comments, and have made a convenient comparison table for the TL;DR crowd, as there is just too much new info to wrap our heads around here:
| | Note 10 | Note 10+ |
| --- | --- | --- |
| Display | 6.3" 1080p | 6.8" 1440p |
| Chipset | Snapdragon 855(+) or Exynos 9825 | Snapdragon 855(+) or Exynos 9825 |
| RAM/Storage | 8GB RAM, from 256GB storage | 12GB RAM, from 256GB storage |
| Rear cameras | 12MP main / 12MP telephoto / 16MP wide | 12MP main / 12MP telephoto / 16MP wide / ToF camera |
| Battery capacity | 3500 mAh | 4300 mAh |
| Charging speed | 25W | 45W |
| Weight | 5.92oz (168g) | 6.98oz (198g) |
| Colors | Black, White, Red | Black, White, Crystal gradient |
| New features | New S-Pen air gestures and sound, front camera night mode, live focus and audio zoom video capture | New S-Pen air gestures and sound, front camera night mode, live focus and audio zoom video capture |
New Note 10 and 10+ features
The last few options merit a bit more explanation. Apparently, the new and improved S-Pen on the Note 10 will have more hovering Air Command options than before. You will, for example, allegedly be able to swap photos without touching the screen in the Gallery.
Other cool new features include the S Pen making a highlighter sound when you, well, highlight, in line with its new sound-emitting capabilities. That jibes with a recent tip by a Samsung exec who had a few good words to say about the new S Pen: "T
he S-pen in the upcoming Galaxy Note 10 scheduled to be launched in August will show a much improved performance
." There you have it.
As to what new features will the ToF sensor on the back bring, we recently learned that Samsung is actually planning to make the time-of-flight sensors mainstream for its phones, starting with the Note 10 in August. It is so bent on employing the camera technology going forward, say industry sources, that it has allegedly secured a second supplier of ToF sensors just to be on the safe side. The main supplier is expected to ramp up in the August-September period, or just around the initial Note 10 sales push.
Samsung's ToF camera sensor may have debuted with the most souped-up Galaxy S10 model in a mid-February Unpacked event, but the Note 10 is next in line with more such sensors, that may actually trickle down to the midrange A-series, too, tip insiders. There was a rumor that Samsung will employ a quad-camera setup on the back of the Note 10+ that is similar in specs to the one in S10 5G, but at the front there will be a true ToF sensor instead of the RGB depth one on the S10 5G. Unfortunately, barring some clever hiding trickery, the
leaked design renders
show only a single selfie camera at the front, so we'll have to wait and see if and how a front ToF would pan out.
Sadly for those who loved it (anyone out there?), the dedicated Bixby button will be gone on the Note 10, as it is on the new A-series. You will be able to replicate its action with the home button, though, so no harm, no foul. All in all, the smaller Note 10 is shaping up to be as exciting as the larger Note 10+, as Samsung has seemingly made a good tradeoff in specs in order to achieve a smaller footprint, so we can't wait to get our grubby mitts all over this puppy.
Recommended Stories