Alcatel surprises with two new smoking hot phones: Idol 4S and Idol 4 blend metal and glass with affordability
32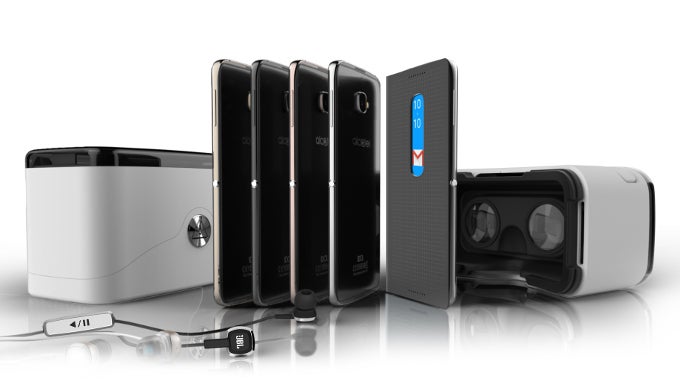 Can you say Alcatel and a great-looking phone?
Admittedly, that's not what comes to mind first, but Alcatel, a joint venture company between France's Alcatel-Lucent and Chinese TCL, has just unveiled its new Idol 4 series with two new phones: the Idol 4 and Idol 4S, and both look smoking hot. The pair features a metal frame and glass body with some accents that make them stand out in the crowd.
While the two phones share very similar looks and visual style, they are different in size and performance power. The Alcatel Idol 4S is the more powerful of the two, a 5.5" device with a Quad HD display and running on the Snapdragon 652 system chip, while the Alcatel Idol 4 has a 5.2" handset with 1080 x 1920-pixel screen and is powered by the Snapdragon 617 chip.
Obviously, these are not high-end, super expensive phones on the same level as the upcoming Galaxy S7 and LG G5, but they are rather aimed at budget-conscious buyers. A nice bonus that you get with these phones is that their retail box actually transforms into a virtual reality (VR) headset that you can plug the phone into.
So what are these Alcatel Idol 4 and Idol 4S all about?
Let's take a quick look at their spec sheet:
Alcatel
Idol 4S
Alcatel
Idol 4
Platform
Android 6.0 Marshmallow
Android 6.0 Marshmallow
Dimensions
153.9 x 75.4 x 6.99 mm
147 x 72.5 x 7.1 mm
Display
5.5" QHD AMOLED (1440 x 2560)
5.2" FHD (1080 x 1920), IPS LTPS
SoC
Snapdragon 652
Snapdragon 617
RAM
3GB
3GB
Cameras
16MP rear cam, 2K video
8MP front cam w/ flash
13MP rear cam, 1080p video
8MP front cam
Storage
32GB
with microSD support
16GB
with microSD support
Battery
3000 mAh
2610 mAh
Both phones support quick charging, a nice extra feature. The Idol 4S battery can fully recharge in 1.6 hours, while the Idol 4 battery cell can be recharged in just 1 hour.
Another great bonus that you don't get on every phone, but you do get on the Alcatel Idol 4S and Idol 4 are powerful dual stereo speakers (2 x 3.6 Watts).
Price and release date
The 5.2" Idol 4, being the cheaper of the two, is expected to carry a price of just around $280, while the 5.5" Idol 4S comes at a higher price of between $400 and $500, still way below your typical $650 flagship pricing.
source: Alcatel