AirPlay hack allows all your iOS apps to send video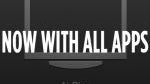 Apple recently released their
iOS 4.2
update, and it came along with some great features. One of those features was AirPlay, which allows the user to stream videos from their device to an Apple TV connected television. Unfortunately, it only worked with Apple-approved apps, which meant no YouTube, or
VLC
.
Now, a developer by the name of Zone-MR, has come out with a bit of code to unleash AirPlay on all your
iOS
apps. That means you can stream them from anything from Safari to YouTube, or VLC. Considering the speed and relative ease with which Zone-MR developed this code, Apple may be on their way to making AirPlay open on future iOS updates (
iOS 4.3
, possibly?).
Obviously, you need to be working from a jailbroken iPhone. The hack is available from
Cydia
, located at "http://cydia.zone-mr.net". We haven't tried it ourselves, so use proper precautions, including a full backup etc. Enjoy!
source:
ZoneMR (YouTube)
via
SlashGear
Recommended Stories