Ahead of October 13 hearing, Verizon backs Samsung against Apple's patent infringement claims
76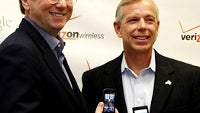 Verizon has filed a Samsung-backing "
amicus curiae brief
" with the Californian court where
Apple submitted the original request for injunction in April
.
That started a legal battle between the two companies that now spans on four continents, but in the US specifically, Apple is seeking to ban the sales and marketing of the
Samsung DROID Charge
,
Infuse 4G
,
Galaxy S 4G
, and the
Samsung Galaxy Tab 10.1
, which
Apple managed to restrict successfully in Germany
for now.
Verizon's filing doesn't have any legal weight, of course, and the term is used for third party filings that want to introduce their own considerations for the court to have in mind when deciding on a case. Verizon's "
amicus curiae brief
" has some pretty wordy arguments inside, up to the point that the injunction against Samsung's 4G products is
against the government policies of expanding the US wireless broadband network footprint
:
An injunction would prohibit some of the newest, most advanced wireless devices sold today and impede the growth of Verizon Wireless's high-speed 4G network. The accused Samsung devices are among the few products that can access Verizon Wireless's next-generation high speed network and therefore are among the most sought-after devices by early-adopting consumers – a critical market segment in the industry. Verizon Wireless has invested and is investing billions in developing and deploying its next-generation Long Term Evolution ('LTE') 4G network; that investment depends on consumers having access to devices that can make use of that network. Samsung is one of only six manufacturers (including HP, HTC, LG, Motorola, and Pantech) that has developed and is offering a limited number of such devices today. Moreover, the motion to enjoin Samsung's devices comes at a critical moment: when Verizon Wireless is expanding its LTE network to paying customers and right before the holiday shopping season
Verizon argues on and on, going insofar as citing a negative effect on jobs creation, i.e., it goes all-out backing up Android and its current poster child Samsung against Apple.