Adoptable (Flex) storage is the best thing to happen to Android since virtual keyboard support
59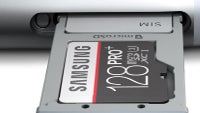 Now that all the interesting flagships for the first half of the year are out, you may have heard the term "
Adoptable storage
" or "
Flex storage
" being thrown around a lot. It's a new feature for Android 6 Marshmallow, which was a bit on the quiet side – Google didn't tout it much, and it seems like developers and phone manufacturers like to talk about it much more often than the Android creator.
When the
Samsung Galaxy S7
,
S7 edge
, and
LG G5
launched, techies worldwide were happy to hear that both companies' flagships support microSD cards for storage expansion, but disappointed at the news that the devices don't utilize Android Marshmallow's Adoptable storage. The
HTC 10
, however, was advertized for supporting Flex storage, which was met with praise.
So what is Adoptable storage, what is Flex storage, and should you care?
Short answer – yes, you should. As you probably know, Android smartphones have supported microSD cards since the dawn of time, but for limited functions. Users were mostly only able to store their photos, videos, and music on the cards. Now, this is not bad at all, as these are some of the biggest storage eaters out there, but, nowadays, with mass games like Hearthstone and Modern Combat 5 easily reaching 3 GB per game, music streaming apps caching songs like there's no tomorrow, and photo-sharing apps storing an infinite amount of thumbnails and pre-cached images somewhere on your phone, it's easy to see how the industry standard 32 GB of on-phone storage just isn't cutting it.
"Adoptable" and "Flex" storage are two words used to describe the same thing
Enter Adoptable / Flex storage. Both words are used to describe the same Android 6 Marshmallow feature – our best guess is that "Flex" was an internal callsign for the function, while "Adoptable" seems to be its official public name. So, what does it do? As the name suggests, it "adopts" your SD card to really turn it into a part of your phone's internal memory. When you insert a new card, you will be asked how you want to use it – as "Portable storage", which will limit you to just moving media files to the card (the old way), or as "Internal storage", which will format the card and make it unusable with any other device unless it is formatted again.
We assume the special format was put in place to alleviate any security concerns. Once you set the microSD card as an Internal storage unit, it will not be readable by any other device but that very phone. So, for all means and purposes, it truly becomes a part of your handset's very own storage.
New apps and media items will first try to fill the SD card
From that point on, you can expect your smartphone to treat the card as its primary storage option. Screenshots, photos and videos, apps and games, et cetera will first try and fill the newly adopted storage before they make their way to the phone's memory. This means it's a good idea to invest in a quality card that ensures speed – in fact, if Android detects the card to be slow, it may issue a warning, telling you that apps may perform poorly.
If you remove the card, you will get a special message, reminding you that your apps will fail to work, and you will also be unable to take screenshots. If you happen to lose the microSD card, you can ask the phone to "forget" it, but be warned that this will result in all of the data on the card to be lost forever!
That's pretty much it. The only flagship we know of that supports Adoptable storage out of the box right now is the HTC 10. However, if you own a Samsung Galaxy S7 / S7 edge, there is
a way to force the device to treat your SD card as Flex storage
. It's nowhere near as pretty and elegant as the native way, but at least it doesn't require root and is pretty easy to do.