Adobe's message on the Pre: Flash 10.1 coming to webOS first half of 2010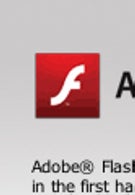 Visit the download page for Adobe Flash from an iPhone and Adobe tells you in no uncertain terms whose fault it is that the software will not play on your device. "Apple restricts use of technologies required by products like Flash Player. Until Apple eliminates these restrictions, Adobe cannot provide Flash Player for the iPhone or iPod Touch," says the writing in the box.
Now we take a look at what it says when you try to get Flash from a device using webOS. "Adobe Flash Player is coming to Palm's webOS in the first half of 2010." This is certainly exciting news for Pre owners and might actually be enough to sway those sitting on the fence to land on the side of the fence belonging to Palm's handset. Besides the Pre, there is also talk that the recently launched Motorola DROID will be getting Flash10 support in the first half of next year. This looks to leave Appleout in the cold unless they start playing nice with Adobe. RememberApple, pride comes before a fall.
Apple iPhone 3GS Specifications
|
Review
Palm Pre Specifications
|
Revi
Motorola DROID Specifications
|
Review
source:
precentral