Adding insult to injury: Canada's Rogers says "No" to BlackBerry Z30
32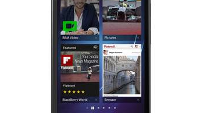 You would expect that most of the Canadian carriers would support BlackBerry. After all, the beleaguered manufacturer is also a Canadian based firm. And while BlackBerry was hoping that the excitement of its first 5 inch model might help it pick up some sorely needed business in the 4th quarter, the top Canadian carrier, Rogers, has decided not to carry the
BlackBerry Z30
. A Rogers spokesman told The Globe and Mail that since it can only support 15 to 17 smartphones, it needs to concentrate on the models that the public will want.
Rob Bruce, Rogers' president of communications, says that not carrying the Z30 was a "
routine decision
" made months ago. Bruce states that the decision has nothing to do with the problems at BlackBerry, and said that Rogers has decided other times in the past not to carry a new BlackBerry model. The mobile operator does offer the
BlackBerry Z10
and
BlackBerry Q10
.
"This doesn't have anything to do with whatever anyone thinks is going on with BlackBerry. People are trying to attach some significance to this decision. There isn't any."
-Rob Bruce, president of communications, Rogers
With other Canadian carriers such as Bell and Telus planning on offering the new high-end BlackBerry 10 phone, a company spokesman says that it is seeing "broad support" for the BlackBerry Z30 in its home country.
source:
TheGlobeandMail
via
PCMag