Acer newTouch and beTouch Е100, Е101 and Е200 hit the shelves tomorrow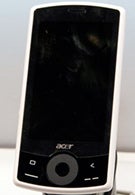 Last week we
told you about the new names
of the upcoming Acer handsets that will be equipped with Windows Mobile 6.5. Earlier today, the blog Clove stated that all orders placed for the
Acer newTouch
,
beTouch E100
,
beTouch E101
and
beTouch E200
, previously known as the F1, C1, E1 and L1 would be handled starting as of tomorrow. That is why we are expecting to see an official announcement by the manufacturer any time now.
Quote (as posted by Clove):
"We can confirm that the first stock of these units have landed and will begin shipping tomorrow – Tuesday 6th October – We can not ship before this time, due to contractual obligations!"
What all beTouch models have in common is they have been designed as affordable cell phones and feature 528MHz Qualcomm 7225 processors.
beTouch E100 and E101
are equipped with 3.2-inch screens and the interesting thing about the latter is it´s aimed at social networking fans and comes without HSDPA data transfer speeds.
The third, the
Acer beTouch E200
, is a stylish slider with 3-inch QVGA display and support for HSDPA.
The
Acer newTouch
is a high-end device announced at MWC 2009. The relevant details posted by Clove reveal the handsets is significantly superior to the beTouch lineup. The Acer newTouch is equipped with 1GHz Qualcomm 8520 processor, large 3.8-inch WVGA screen, 5-megapixel camera, Wi-Fi, GPS and supports HSPA. These specifications make the device a heavy-weight player that is certain to give both the Toshiba TG01 and still unannounced
HTC HD2 (Leo)
a good run for their money.
Clove has been a contractual business partner of Acer and so far, they have never provided inaccurate information. We believe the news is definitely credible, so we are waiting see an official press release by Acer that we hope will reveal more information about the above-mentioned handsets. Don´t forget to keep an eye on our news section tomorrow, because this is the day when Windows Mobile 6.5 rolls out officially and we expect to see the announcements of quite a few exciting devices that so far, we have only heard rumours about.
Note: AT&T has already released their first cell phone running Windows Mobile 6.5 – the HTC PURE. More information about it is available
here
.
source:
Clove
*UPDATE*
: Acer has confirmed the information and the four Windows Phones are now official. You can check our
Hands on with the Acer beTouch E200
now.