Acer Liquid S2 Hands-on
10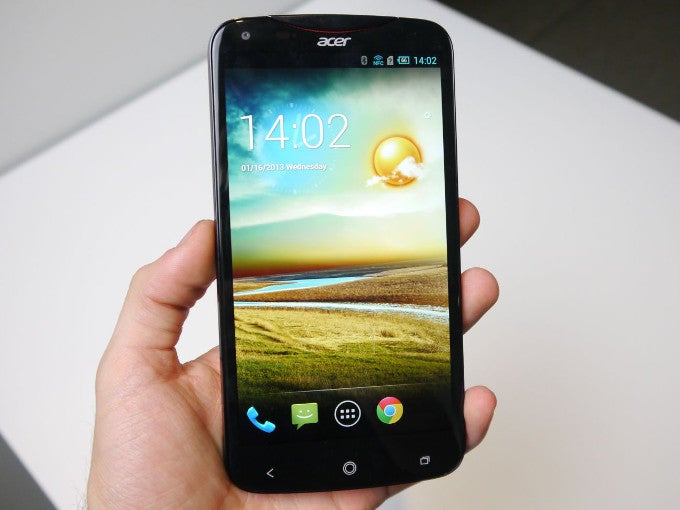 Announced just a couple of days ago, the Acer Liquid S2 hasn't missed the opportunity to make an official appearance at IFA 2013. We were lucky enough to take the new phablet for a spin, and we have to admit that it does seem to be pretty appealing for the phablet-loving crowd.
Design
The Acer Liquid S2's external design may not scream premium, but it's definitely a high-quality device and that becomes apparent as soon as you put your hands on it. The S2 employs a nice matte plastic that feels solid, although not really amazing. In terms of dimensions, the Liquid S2 is very big, but that's what a phablet is supposed to be. The design itself is mostly simple, but Acer has added a few interesting touches here and there, such as the specific design of the earpiece and the quad-LED flash around the camera.
All in all, the Acer Liquid S2 is a pretty decent device in terms of looks and construction, so we have absolutely complaints in this respect. It definitely beats something in the lines of the Note II or the GS4, but that isn't anything new.
Display
Armed with a 6" 1080p IPS screen, the Acer Liquid S2 has nothing to worry about in the display department. Acer isn't going for a fancy brand name or something like that, but this totally normal IPS display is perfectly fine in terms of things like resolution, color reproduction and viewing angles. Of course, these are just our first impressions of the device, so we can't draw any conclusions just yet, but we can honestly say that we liked what we saw in that gigantic screen.
Interface and Functionality
The S2 isn't a stock device. Still, it's pretty close to vanilla Android, as Acer hasn't personalized the core Android apps, unlike what other manufacturers like Samsung or HTC do. Instead, the company has added a bunch of custom widgets and services like Acer Cloud. In addition, there are Acer's floating apps, which work similarly to Samsung's or LG's mini apps - you basically get a small/mini version of an app running on top of whatever the handset's displaying at the moment, and you can also move this windowed app around. Meanwhile, Dolby's sound technology will be taking care of the audio experience with the Liquid S2.
Other than that, the Acer Liquid S2 is a mostly stock device, which we certainly enjoy. What's more, it's running perfectly smoothly thanks to the powerful Snapdragon 800 processor under the hood.
Camera
The camera seems to be a key component of the Acer Liquid S2. The 13MP snapper can not only capture super-high-resolution photos - it's actually the first to capture super-high-resolution 4K video! That's right, you can record 4K content with this mobile device, and nothing's going to stop you!
Aside from the fact that the 4K video files are simply enormous in terms of size, though, we can't really comment on the quality of the footage yet. We took some test samples, one of which you can watch below, but we don't think that the quality of this video is representative of what we'll experience with the final version of the device.
Another cool thing about the Liquid S2's camera is that it features not one, not two, but four LED flashes! Neatly arrangled around the 13MP sensor, the 4 LED flashes should be able to provide noticeably more light when shooting low-light scenes from a distance, without the unpleasant effect of having too many visible shadows.
Release date, Price and Expectations
The Acer Liquid S2 is an ambitious product that can easily challenge pretty much every other device in the phablet category. It has all the needed specs to provide a satisfing experience, while the software seems reasonably customized in order to make the Android system feel both unique and not too far from the original. We're excited to see Acer continuing its efforts to establish itself on the smartphone market, and it appears that the manufacturer is mostly making the right decisions.
Phablet-lovers will surely enjoy the Liquid S2 - it's aggressive, powerful, and most importantly, it has this massive 6" display to make multimedia consumption that much more enjoyable.
The Acer Liquid S2 release will take place sometime during mid- to late-October in most European countries, while the pricing will hover between around $590 (450 EUR) to $720 (550 EUR), depending on the market.
Stay tuned for more coverage live from IFA 2013!