Acer Iconia A1 hands-on
12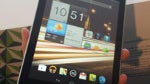 Introduction:
Cheap Android tablets seem to be all the rage nowadays, as we've witnessed just the past recent holiday season. From the mighty
Google Nexus 7
, to other rival offerings such as the
Amazon Kindle Fire HD
and NOOK TABLET, manufacturers are ready to give the total package to consumers – while still being easy on the pockets. Well, Acer is here to serve us with its latest budget oriented Android tablet in the
Acer Iconia A1
.
Display:
Sporting a
7.9-inch 1,024 x 768 IPS display
, the resolution isn't anything magnificent, but it actually matches the iPad mini's display in size and resolution. Needless to say, the numbers don't do justice to get people craving to check it out – and quickly looking at it kind of shows that. In fact, we notice that the display has a tendency to show some
distortion at various viewing angles
. And on top of that, its brightness output seems a bit weak in the indoor situation we checked it out in, which makes us believe that it'll be more difficult to view under sunlight. Despite its ho-hum resolution, there really isn't much of an issue looking at it from a normal distance away – albeit, upon closer inspection, we can tell it's not as sharp looking as some other higher resolution displays.
Design:
When you're trying to reach a certain price point, especially one that's under the $200 mark, design and construction tends to be affected the most – in the bad sort of way. Indeed, it lacks the impeccable design quality of the iPad mini, but at least the construction feels firm. Donning a plastic casing, it does contribute to easy holding for long periods of time with our hands, but it's a
really wide tablet to grasp
. Essentially, we have to stretch our hand just to be able to grasp it. Frankly, the Acer Iconia A1's design isn't its most polarizing highlight, but like we mentioned already, you can only look good so much with a limited budget.
Interface:
Under the hood, the Iconia A1 is powered by a
quad-core 1.2GHz MediaTek processor with 1GB of RAM
– specs that hardly get any notice in this day and age. Regardless of its almost pitiful hardware, it'll surprise many to know that
performance isn't affected negatively
. In fact, in our quick look at the tablet, it's able to handle most benign tasks without much fluff – such as navigating across the homescreen and opening apps. Well, it could be somehow related to the
Android 4.2.2 Jelly Bean
experience it's running, but nonetheless, we're content with what we see so far. Unlike other custom Android experiences, Acer's take isn't too obtrusive, as its customizations are mostly limited to widgets.
Expectations:
Obviously, this isn't trying to compete with the big boys in the Android tablet market, but rather, it's aiming to give some of those budget tablets a good run for their money. Out of everything, we have to give some props to Acer for putting a
$170 price tag
on the 8GB model – while the 16GB version will go for a decent $200. However, we're curious to know how soon Acer will launch this inexpensive tablet, seeing that we might soon see an army of refreshed tablets from the competition.