Acer Extend concept notebook chassis hands-on
5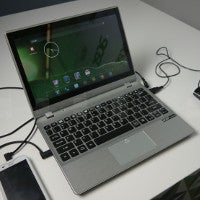 Every once in a while, a company decides to produce something a little more extravagant, and the so-called Acer Extend is exactly such type of affair. Don't be fooled by the images - it's neither a notebook, nor a tablet that can dock with a keyboard part. Even though it's pretty much a notebook on the outside, on the inside it's... well, it's basically hollow, because it's just a device that uses all the brains of your smartphone, and converts them to this more versatile notebook form-factor. That's right, it's a laptop shell with no processor, memory, GPU or any other kind of stuff like that. It simply mimicks your Android phone's screen, but adds the convenience of having a really big screen an additional battery and a physical QWERTY keyboard for increased productivity.
Design and Display
In terms of look and feel, the Acer Extend seems to be a rather high-quality product. Of course, the sample that we tested was far from complete, so you should bear in mind that some things may change when (and if) the device launches.
Still, the Acer Extend is just that - visually it's a laptop, but in reality, it's a notebook chassis, capabable of reproducing your Android screen.
The display of the Acer Extend is nothing to write home bout. It has a decent resolution and looks mostly OK, though we aren't blown away. The display is not touch-enabled, so you don't to have to try and do anything by touchinsg the screem - it won't work, which is a pity, but Acer claims that this should allows them to keep the price down.
Interface and Functionality
The Extend doesn't feature an interface of its own, though it does tweak what's coming from your smartphone in order to adapt it to the bigger screen. It features a full-sized USB port, so you can easily connect a mouse and have an even richer and more familiar experience. Naturally, the keyboard part will make the Extend that much more productive, as typing is greatly enhanced thanks to the solid QWERTY keyboard.
Upon connecting your smartphone to the Acer Extend, the display of your handset will go blank. Now, in case you get a phone call or something like this, the phone's screen will automatically wake up and notify you about the event. In addition, while your phone remains connected to the Extend, Acer's new gadget will also charge your mobile device.
Expectations
Of course, pricing will be extremely important for the Acer Extend, considering the fact that if the Extend happens to be priced just a bit too closely to a notebook, it'll drastically lose its appeal. This should be a really cheap device that you can carry with you to transform your phone experience to something that's a little more PC-like. With so much power locked inside our smartphones, wouldn't it be cool if we can have a better way of using it? Who knows, the Acer Extend may be one such way. Hopefully Acer will manage to keep the price down, and we'll soon be able to enjoy this intriguing device. If we're lucky, the Acer Extend may even appear on the market at some point between late this year and early next one, but that's yet to be confirmed by the manufacturer. And, while we're waiting, why don't you tell us what you guys think about this innovative product? Sound off in the comments!