AT&T's latest push with #ItCanWait shows just how quickly our world can change if we take our eyes off the road
16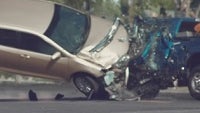 AT&T has been leading the charge to bring awareness to the dangers of, and discourage the use of smartphones while driving. The #ItCanWait campaign started as an anti-texting while driving initiative, and it has been embraced by carriers, manufacturers, law enforcement, and legislatures across the nation.
Still, this type of distracted driving is proving to be an ongoing challenge. Some people don't know, or don't get it, or even worse, don't care.
According to AT&T, it is more than just texting, it is using social media, taking selfies, and video chatting. Citing its own research, AT&T estimates that 4-in-10 people use social media while driving, and 3-in-10 surf the web. 1 out of 7 respondents said they used Twitter while they drove. In all, AT&T figures that 70% of people use their smartphones in some way to engage socially with others while operating a vehicle.
To drive it home, AT&T produced a new series of videos that show just how fast things can happen, to those in and out of the car. Our perception of time changes drastically based on what we are doing. As the saying goes, "time flies when you're having fun," and social media is fun, which means more time flies than we think when we take our eyes off the road.
The videos are essentially the same, but they each touch on a different distraction we encounter every day, from work emails to someone liking our photo on social media. We are right there with you, hearing the notification tone, or seeing that LED out of the corner of our eyes, it is temptation plain and simple, but we would rather you arrive at your destination alive.
Advisory: the graphic nature of the videos might be disturbing for some people.