AT&T working on a gaming platform for Android devices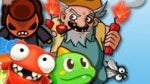 Verizon is now in possession of the coveted
iPhone
platform, and that means AT&T will have to expand its offerings to stay competitive. One way of doing that is to invest more heavily in their Android devices. AT&T is partnering with the OpenFeint gaming network, which is a social gaming competitor to Apple's
Game Center
.
"The net-net here is that we want developers to build more connected games for our customers," said an AT&T spokesperson. OpenFeint enables users to post scores, enjoy multiplayer competition, and chat, much like networked consoles and desktops. With 65 million users and 4,500 games, AT&T is wise to establish a footing in OpenFeint's community.
OpenFeint's executive chairman, Peter Relan, said that AT&T's partnership is proof of the growing significance of
mobile gaming
. Before, smartphones were limited by both network speed and their own processing power. With more powerful devices, games, and network connectivity, mobile devices offer a more competitive alternative to traditional consoles.
But is this enough to bolster AT&T's position with Android fans? While Verizon has been the go-to name for Android in recent years, AT&T is planning on releasing far more
Android devices
in 2011. This convergence of devices between Verizon and AT&T will mean that customers can make their purchasing decisions based on networks, rather than hardware. And isn't that how it should be?
source:
The Wall Street Journal