Gaming on a smartphone - how important is it for you: Results
17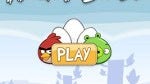 "How important is gaming on smartphones" is one of these topics that keep popping up, and now we have some hard evidence what you think of it, as we are going to present you with the results of
the poll
we ran approximately three days ago.
The poll results dictate that the majority of you (
52.63% or 390 votes
) voted that
gaming on smartphones is not important
, and yet, there are these moments when it feels right to kill a piggie or two. Or even more.
Then, on the second place, we have
265 votes (35.76%)
that proclaim
gaming is one of the great things
you can do on smartphones, and these guys obviously do it a lot. You lads did well, but still scored second.
Those of you who are more focused on
world peace
, the works of
Hemingway
, the words of
Bob Dylan
(or whatever you are into) than playing on their smartphones are a vast minority with only
11.61% (only 86 voters)
.
Well, these are the results (you can see them below), and it's said that facts speak louder than words. That's not to say that facts can't be discussed, so you can drop a comment or two, but even if you don't, stay tuned, for more intriguing polls are coming soon.