AT&T receives BlackBerry Z10 demo units while BlackBerry 10 fails U.K. government security test
10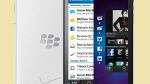 As AT&T prepares for its launch of the
BlackBerry Z10
on Friday, some disturbing news came out from the U.K. government which might negatively impact BlackBerry's goal to win back the U.K. business market. More on that later. First, in the U.S., with demo units of the BlackBerry Z10 making their way to AT&T stores, the device is
getting ready to go on sale for $199.99 with a signed two-year pact
, starting on Friday.
Meanwhile, in the U.K., the government ruled that the BlackBerry 10 OS was
not secure enough
to work on essential programs. The main culprit is BlackBerry Balance. This is the feature that allows you to have your work contacts and apps locked up when you are using your device for play. It is designed to allow BlackBerry to gain some share in the workplace from iOS and Android phones that have become popular with the BYOD crowd. The previous BlackBerry OS build, 7.1, was approved by the Communications-Electronics Security Group (CESG) last December and was cleared for classifications up to "Restricted," two levels below "Secret". Meanwhile, BlackBerry says that while the CESG has not passed BlackBerry 10, no date could be given as to when it would submit revised software. BlackBerry could lose millions in potential sales if its phones are not up to government security standards.
Meanwhile, sales of the Z10 in the U.K. are said to be dropping after a strong start. According to James Faucette at Pacific Crest, sell-through rates have declined sharply, inventories are above typical levels, and we have seen Carphone Warehouse and Phones 4U, two of the biggest names for mobile sales in the U.K.,
cut the price of the phone sharply
.
source:
TheGuardian
,
Crackberry