AT&T prepared for iPad 3G users?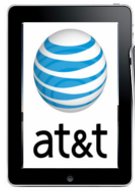 With
300,000 iPads
sold on day one, we're sure there are still people waiting out until Apple releases the 3G enabled version of the iPad later this month before taking the plunge of purchasing it. Some people heavily prefer the advantages it has to offer with ease of having internet connectivity at almost any location, but some have questioned whether or not AT&T is prepared for the influx of potential customers that'll call their network home. It's no surprise at this point at how the iPhone was able to test AT&T's network capacity – we've all heard the myriad of issues stemming from the amount of data usage that iPhone users tend to be associated with.
With approximately 30 days before iPad 3G models start to become readily available, AT&T is said to be investing heavily to upgrade their network for the upcoming rush of iPad users. Spokesman Mark Siegel said that the network operator has "of course factored the iPad into its network planning." Some are suggesting that the iPad shouldn't pose too much of a concern seeing that it's larger than a cell phone and that consumers are unlikely to carry it everywhere they go – which ultimately means less demand for AT&T when compared to the iPhone.
Now it's really tough to gauge what to expect – especially when the iPad brings forth the onset of downloading new apps and content. AT&T's chief executive predicts that most consumers will be using the Wi-Fi iPad versus the 3G model. In any event, we're crossing our fingers that AT&T still doesn't undermine the sheer amount of usage consumers expect to use on the 3G iPad. There are a lot of expectations being looked at as the 3G version of the iPad will once again test AT&T's performance – let's hope they truly are ready.
source:
Reuters