AT&T gives some customers free upgrade to Mobile to Any Mobile calling
18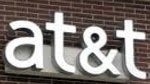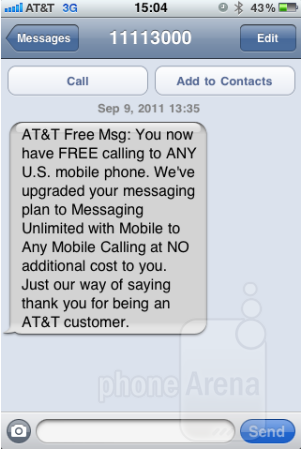 AT&T is offering free calling plan upgrades to some customers
At the beginning of this month, as we
reported
, AT&T rewarded customers by giving them 1,000 free rollover minutes. Apparently not everyone received the offer, and one of those who did not has sent us a picture showing that he has been rewarded by the carrier in a different way. The message that he received from AT&T says that he has been upgraded and
now can call any U.S. mobile phone for free
.
The exact message reads: "
You now have FREE calling to any U.S. mobile phone. We've upgraded your messaging plan to Messaging Unlimited with Mobile to Any Mobile Calling at NO additional cost to you. Just our way of saying thank you for being an AT&T customer
."
Judging from the photo, our tipster is an Apple iPhone user and with the increased competition from Sprint and Verizon, it seems that AT&T really, really wants to keep iPhone users on board. Showering customers with free upgrades and rollover minutes is one way to do it, but if Sprint keeps its unlimited plans for iPhone 5 users
as we told you
they plan to do, it might be hard for AT&T to prevent some of its iPhone users from walking once their contract expires. After all,
Sprint doesn't throttle data speeds or charge overage rates
on customers.
If you also received this free upgrade, you can let us know by dropping a comment in the box below!
Thanks, Jeff!