AT&T cripples Android with the BACKFLIP
This article contains unofficial information.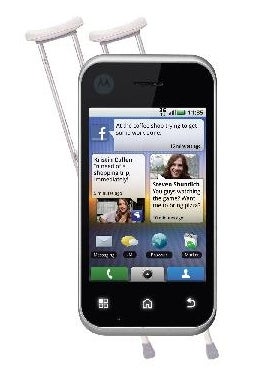 Remember the good old days when it was Verizon that was accused of crippling its phones? Funny how things change. With three Android models being offered, Big Red has been a model citizen in this regard. AT&T, on the other hand, has just released its first Android model, the Motorola BACKFLIP, and has crippled the handset so much it should be using a cane. First off, AT&T has removed the option that allows users to download non-Android Market apps onto the handset. This prevents BACKFLIP users from enjoying the recently released Swype beta that is now available for Android models. Most handsets using Googles open source OS have a option to allow for such apps to be installed. Also, the dozen or so apps that come out of the box from AT&T cannot be removed. With the limited amount of storage space on the BACKFLIP, not being able to delete certain apps is not helpful to the user at all. AT&T also has decided to replace Google's search with Yahoo. All together, the whole package cripples the BACKFLIP so much that you would expect to see Luke Wilson limp on the next AT&T commercial.
Motorola BACKFLIP Specifications
|
Hands-on
source:
XDA-developers
via
AndroidandMe