AT&T corporate stores are confirmed to open at 7AM for the iPhone 4 launch?
This article contains unofficial information.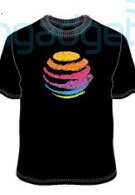 Upon entering an AT&T corporate store, you generally tend to see employees dressed formally to give customers that attentive presentation as they guide you in finding the best phone to fit your needs. However, when launch day arrives for the Apple iPhone 4, you can expect to see an entirely different attire that employees will be wearing. The hectic environment that will undoubtedly be contained at each store can surely become a burden on employees that traditionally dress formally for the occasion, but it looks like they'll be wearing these specially designed t-shirts that show off the new logo and tag line. In addition, they might be even dressed a little bit more comfortably as casual pants and footwear can be worn once approved by management. Naturally this special dress code will be enforced only on launch day and should come to be appreciated because it looks like stores will be opening bright and early at 7:00AM. So if you plan on hitting up an AT&T store on launch day, you may just want to adjust your arrival if you're adamant on getting a device.
Apple iPhone 4 Specifications
source:
Engadget