AT&T Call International app helps you avoid those pesky roaming and long distance charges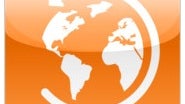 Here comes another mobile solution that lets you place cheap international calls by using VoIP technology. However, what's interesting this time is that AT&T itself is providing the service.
The carrier just recently released its AT&T Call International ap
p, which offers a way to avoid those pesky long distance and roaming charges when trying to call someone abroad. What you need in order to use the service is a working Wi-Fi connection and a credit card, which will be charged at the end of each monthly billing cycle. What is really cool about the service is that it works both within and outside of the U.S., so you can make cheap local calls the next time you are in a foreign country.
Sounds neat indeed, but how does AT&T Call International compare to the plethora of similar services provided by third party companies? In terms of pricing, our quick check shows that AT&T's solution might offer you a better rate on some cases, but it mostly depends on which country you are calling to. There also appears to be a vast difference in calling rates for mobile and landline phones, so you should be keeping an eye on that as well.
AT&T Call International is available on the iPhone, as well as on both Android and BlackBerry smartphones. And by the way, the app does not appear to be restricted to AT&T handsets only, so do not hesitate to try it out no matter what your carrier of choice is.