AT&T CEO does not envision regulatory approval of T-Mobile and Sprint merger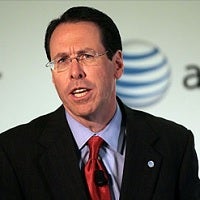 Randall Stephenson, chief executive at AT&T, unsurprisingly expressed doubts that SoftBank and Sprint will gain regulatory approval
to acquire T-Mobile USA
.
While one might say it was just sour grapes from AT&T's own
failed attempt
to pick up T-Mobile years ago, Mr. Stephenson levied the same argument in this case.
"The problem as I see it is the way the government shut our deal down. They wrote a complaint and a very specific complaint. You're consolidating the industry from four to three national competitors. If you think of Sprint and T-Mobile combining, I struggle to understand how that's not four going to three,"
said Mr. Stephenson at the Economic Club in Washington, DC.
Whether or not we will see any overt statements from AT&T to regulators beyond this rhetoric remains to be seen. AT&T is currently massaging the landscape so that it will be successful carrying out its plans to buy DirecTV. While that does not have the same challenges that Sprint and T-Mobile may face, AT&T's deal is also running parallel to merger plans of two other large cable companies, Comcast and Time Warner Cable.
source:
re/code