ASUS teases new dual-boot Transformer tablet ahead of CES?
7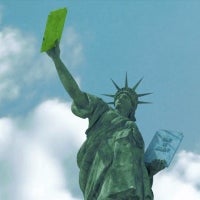 Liberty and the ability to switch to Android or Windows on a whim. Sounds like a perfect match, which can also help you make sense of ASUS's latest teaser. Seeing that the teased product is, in all likeliness, a tablet of some kind, it's fitting that the marketers chose to feature the Statue of Liberty. Libertas, the Roman goddess of freedom, literally holds a tablet in her left arm - the
tabula ansata
, or "tablet with handles" in Latin. In real life, the tabula has "July 4th 1776" inscribed - the date on which the Declaration of Independence was signed. But, as ASUS' trailer begins, the tablet reads "January 6, 2014", and Libertas holds the peace sign, instead of a torch in her right arm.
What is ASUS hinting at? Is it a tablet with handles? Thankfully, no. On December 12, the company
sent invites for a Jan 6th event
, titled "In search of incredible." So far, so good. But, as the video goes on, Libertas whips out the second half of her tablet – one which is green, while the first half is blue. We've come to recognize green as one of Android's signature colors, while blue is now the shade of the Windows logo, so it's not difficult to guess what ASUS may be alluding to. Although, the symbolism might not be as obvious as it seems. The alleged "Android half" of the tablet fades between green and blue, which could mean that the Android and Windows halves of the tablet can share user data, or that at least one of the halves can run both operating systems.
Since the former is truly a wild guess at this point, here's a solid clue: in early December, three dual-OS devices from the Taiwanese maker swung by the FCC, featuring an Intel Atom "Bay Trail" CPU and the ability to boot both Android 4.4 and Windows 8. Oh, and let's not forget that goddess Libertas is raising the peace sign. Is ASUS facetiously preaching that Android and Windows should exist together in harmony? Or are we being overly analytical to a teaser which is merely about a tablet for hippies that changes colors?
We can make up assumptions all day long, but one thing is certain – ASUS has to come up with a remarkable follow-up to its
crazy Transformer Book Trio
. It's a powerful hybrid device that splices an Intel Atom-based Android tablet and an Intel Core i7-based keyboard dock running Windows 8, both fully featured and able to operate independently. That's quite the challenge, but ASUS has really stepped up its efforts to innovate. So sign us up for Jan 6th already.
source:
Engadget