Motorola enters a multi-year partenrship with Intel, devices coming in H2 2012
4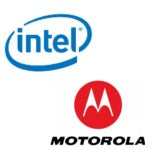 During Intel's keynote at CES 2012 today, CEO Paul Otellini invited Motorola Mobility CEO Sanjay Jha to announce a
multi-year partnership
, which is expected to bring us Motorola smartphones and other mobile devices utilizing Intel's processor solutions (read: tablets).
While many of us hoped to see someone at this tradeshow actually announce an Intel-powered smartphone (except for the
China-bound Lenovo K800
), it looks like we won't have the pleasure. What we got instead is the promise that such devices will come out sometime during the second half of the year.
And that's pretty much all for now. No specs, no details, nothing. Intel did show a "reference platform" - a generic kind of phone which can serve as the basis of an eventual upcoming Motorola smartphone with Intel inside. What that reference phone offered in terms of features included an 8MP camera (with support for up to 16MP sensors), 1080p video playback and power management capabilities that should allow
45 hours of audio playback, 8 hours of talk-time or 14 days of stand-by
. Sounds pretty decent to us, though how much of this is going to transition into the actual handsets that are going to hit the market later this year is still a mystery.
As a whole, today's Intel keynote made it clear that the company is still pretty much focused almost exclusively on the PC market, while mobile is more or less seen as a secondary project. We believe that Intel-powered smartphones will eventually hit the market sometime this year, but besides hoping that this will happen sooner rather than later, we also hope that when they hit the market, they will be able to rival the ever-growing ARMy of the competition.
source: Intel