ARCHOS VR may be the cheapest VR goggles yet
11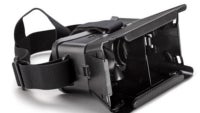 Yet another company is about to make its entry into the VR market and it's France-based ARCHOS. Known for manufacturing budget-oriented mobile devices, the company stays true to its own style and has announced that it will be releasing a VR headset that will cost $29.99. This is quite an impressive feat, seeing as
Google's DIY Cardboard project
is said to set you back ~$50.
The best part about the ARCHOS VR is that it is supposed to work with any phone, as long as it's smaller than 6", and running any of the 3 major operating systems – Android, iOS, and WP. To top it off, ARCHOS also claims that the headset is compatible with all VR applications, which should sort out the "developer support" question. ARCHOS will also be releasing a companion Video Player app, which will allow users to watch movies in stereoscopic mode.
The headset may not be as pretty as Samsung's
upcoming Gear VR
or ZEISS'
recently announced goggles
(also compatible with a wide range of devices, but only if you purchase additional trays), but the ARCHOS definitely beats the competition in terms of price and out-of-the-box compatibility.
The manufacturer says that the device will be available for purchase this November and will be sold through www.archos.com. So, if you want to try out some VR goodness this holiday, but in no way wish to break the bank – maybe you should give ARCHOS a whirl.
Of course, ARCHOS does recommend you use a quad-core powered handset with a 5" 1080p screen for best results, so keep that in mind.
Update: As reported by one of our readers - the unit is a rebranded model, originally made by China-based manufacturer "NEJE". Still, NEJE only lists the
source:
ARCHOS
via
MobileSyrup