AAXA announces a new Laser Pico Projector for iPhone and more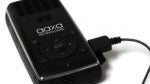 We told you recently about
Microvision
completing the RGB display in their laser pocket projectors. Well AXAA must have done the same, because they have announced a brighter, more efficient pocket projector that is compatible with the iPhone and iPod Touch, in addition to portable gaming systems, computers, and digital cameras.
The L1 v2 Laser Pico Projector is the second iteration of the world's first laser-powered pocket
projector
. At about the size of a small cell phone, the L1 v2 allows the user to take their presentations anywhere they go. With its recently improved efficiency, it will also deliver 800x600 resolution at 20 lumens, for 1.5 hours. Because it is a laser, rather than a lamp, it doesn't require refocusing for different distances.
If you're a road warrior of a businessman, or just a social shutterbug, you'll love the ability to deliver an impromptu
presentation
. Unfortunately, as it is laser-powered, you will need the room to be pretty dimly lit, if at all.
In addition to projecting your peripheral devices, it also has an internal media player, which can decode a host of files: AVI, ASF, WMV, MPG, MP3, WAV, AAC, JPG, GIF, PNG, BMP, as well as
Microsoft Office
documents. With the USB port, all you need to make a presentation is the L1 v2 and a USB thumb drive.
At $449 ($399 on pre-order), the L1 v2 isn't cheap. But if you will use it for business presentations, you can probably write it off as a business expense anyway. The iPhone and
iPod Touch
require a separate adapter, which costs $24.99.
source:
AAXA
via
SlashGear