Microvision completes RGB display for Pico Projectors
1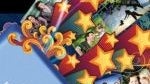 We've all at some point wanted to share a picture or video from our phone, and ended up crowding around the tiny screen, trying to find that perfect angle for everyone to see. Thanks to Microvision, maybe more phones will have projectors, like the
Samsung Galaxy Beam
. They have just refined their Pico Projector technology to make it smaller, more efficient, and hopefully cheaper.
Their previous Pico Projector, the Show WX, utilizes red, blue, and synthesized green lasers to project an image. They have now created a direct green hue laser, simplifying the overall process of projection. Sid Madhavan of Microvision says that "These encouraging results give us confidence that direct green laser diodes will be capable of meeting the performance requirements for integration into our PicoP display platform."
But why do we care that they made a green laser? Well, the simplified design will cut down on the cost of Pico Projectors, as well as their size and power consumption. This makes them better suited towards mass production in our mobile devices.
Microvision projects that as many as five companies will be able to produce these essential green lasers by "late 2011 to mid 2012." We're hopeful that this means we can expect
laser projection technology
in more of our mobile devices in the next 1 to 2 years.
source:
Microvision
via
Engadget