BlackBerry Presenter lets users give Power Point presentations from their 'Berry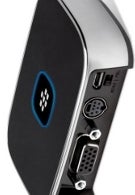 A new accessory for your BlackBerry turns your handset into another "must have" business tool. The Presenter plugs into a projector on one end and a BlackBerry smartphone on the other side to helmake a Microsoft PowerPoint presentation wirelessly from the phone. With the Presenter, the user has control to navigate the presentation, view speaker notes, loop slides and discuss info from one slide while showing another one. In other words, your lap top is left behind, replaced by a BlackBerry. Using a Bluetooth connection between the handset and the Presenter, the user can walk around during the presentation, within 30 feet of the devices.
The Presenter is not yet available for purchase. Once it does become available, it will cost $199 at ShopBlackBerry.com and at select authorized dealers and retail stores. The device works on BlackBerry handsets running OS 4.6 or higher. It will not work on the Curve 8330 series or on the Pearl Flip. While other smartphones continue to bolster consumer related applications, leave it to RIM to offer an accessory that is made for the businessman on the go and strengthen the ties that make BlackBerry a unique handset for the business world.
source:
RIM