A timeline video illustration of the mobile phone market change 2007-2011
1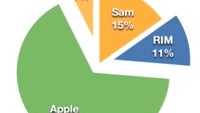 The former Nokia analyst Horace Dediu over at Asymco has compiled his charts of the most popular cell phone manufacturers' business numbers, and made a nice presentational video, which clearly shows how
the mobile industry turned on its head for just four short years
.
It all began with the introduction of the iPhone by Apple in 2007, of course, and
the last quarter showed that the only ones making money off of it now are Apple, Samsung, RIM and HTC
. The ascent of modern smartphone operating systems like Android and iOS caught the incumbents unprepared, resulting in Apple snatching most of the industry profits now, and Samsung multiplying its smartphone count more than five times since last year.
There are still way too many variables that haven't played fully yet, like
Android being besieged with patent trolls
, and Nokia entering the game with Microsoft's Windows Phone platform, so the status quo is far from set in stone. Watch the amazing dynamics of the industry in the video below, starting Q2 of 2007, and ending this past quarter. We recommend watching the video full screen to enjoy all the gory and glory details.
source:
Asymco