A survey says that when it comes to tablets, T-Mobile is the best
8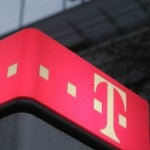 Apple made a revolution when it introduced the iPad to the mass public. The tablet business is now turning into a gold mine for manufacturers due to the small number of companies creating tablets and the fact that they are the latest high-tech craze among the public. A survey conducted by Current Analysis' Deepa Karthikeyan made an overview of the available data plans and other goodies offered for the Samsung Galaxy Tab by the five largest US carriers and proclaimed
T-Mobile
the winner.
The categories were concerned with the payment structure of the different data plans, their variety and also "additional perks". T-Mobile came on top because it has plenty of data plans, doesn't overcharge when you have consumed more than you have paid for, has attractive offers for users already subscribed to T-Mobile and offers unlimited Wi-Fi.
In this Current Analysis survey, the table of the tablet-friendly carriers shaped like that:
1) T-Mobile
2) Verizon and AT&T
3) Sprint
4) U.S. Cellular
These days it's fascinating to own a tablet and if T-Mobile does take a hold of that niche, that's boding well for its future. Your thoughts?
source:
Forbes