A pro tablet surfaces: the Samsung Galaxy Tab S3 has quad speakers, S Pen, keyboard
14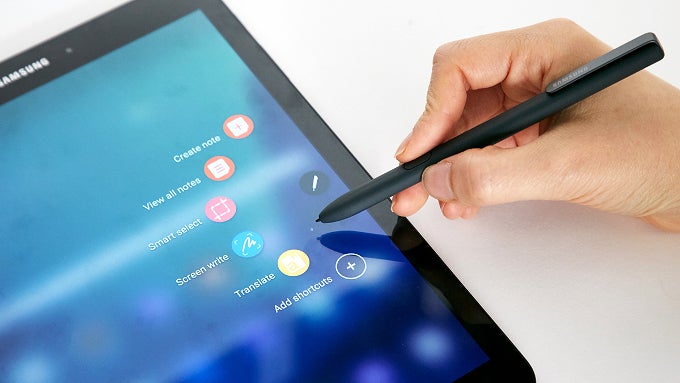 The tablet market hasn't been going super-strong lately. It was a lucrative niche some years ago, but it was very quickly cornered by the growing smartphone screen sizes, and the shrinking of ultrabooks (very slim notebooks). So, a lot of developers have pulled away from building tabs, and others have minimized their portfolio and spread out their product refresh schedules while continuing to poke at R&D to come up with a new breakthrough feature that would make tablets hip again.
The trend now is to transform tablets into ultra-portable productivity machines. Employing their touch input and throwing a stylus and keyboard in the mix opens up some possibilities for professionals or users who need a device that can transform from tablet to semi-laptop at will. Samsung has refreshed its flagship Galaxy Tab S line in accordance with this trend — this is the Galaxy Tab S3:
Design
In terms of design, the Galaxy Tab S3 is pretty similar to its predecessor — the
Tab S2
. Its body measures at 9.34 x 6.65 inches (237.3 x 169 mm), just like the old model, and its just a tad thicker at 0.23 inches (6 mm), while the Tab S2 was 0.22 inches (5.6 mm). In other words, it's still slightly smaller and slightly thinner than the "industry standard" — the highly-popular
iPad Air 2
, which measures at 9.45 x 6.67 x 0.24 inches (240 x 169.5 x 6.1 mm).
We've got a pretty standard Samsung ordeal with the navigational buttons. A hardware home key holds a fingerprint sensor and it's neighboured by two capacitive buttons — one for Recent Apps, one for Back. The power switch and volume rocker are at their regular spot, on the right frame of the device.
What's new on the metal frame is a special port, which is used to connect to the separately-sold keyboard dock, which turns the Tab S3 into a makeshift Android-powered ultrabook. We also have four speaker grilles for a brand-new to the Galaxy Tab line quad speaker stereo setup!
Hardware and display
So, the chassis looks very familiar, but what's new under the hood? We've got an appropriate bump in terms of hardware. The Tab S3 is powered by the Qualcomm Snapdragon 820 chip, capable of reaching clock speeds of 2.15 GHz for performance-demanding tasks. The RAM has been boosted to 4 GB, and we've got 32 GB of on-board storage, which can be expanded via a microSD card.
We've got no surprises in the display department. Samsung adopted the 3:4 display ratio with the Galaxy Tab S2 and it remains the same with the new Tab S3. The resolution is also unchanged — 1536 x 2048 pixels, meaning that the screen has 264 pixels per inch for a crisp image. Naturally, it's a Super AMOLED panel.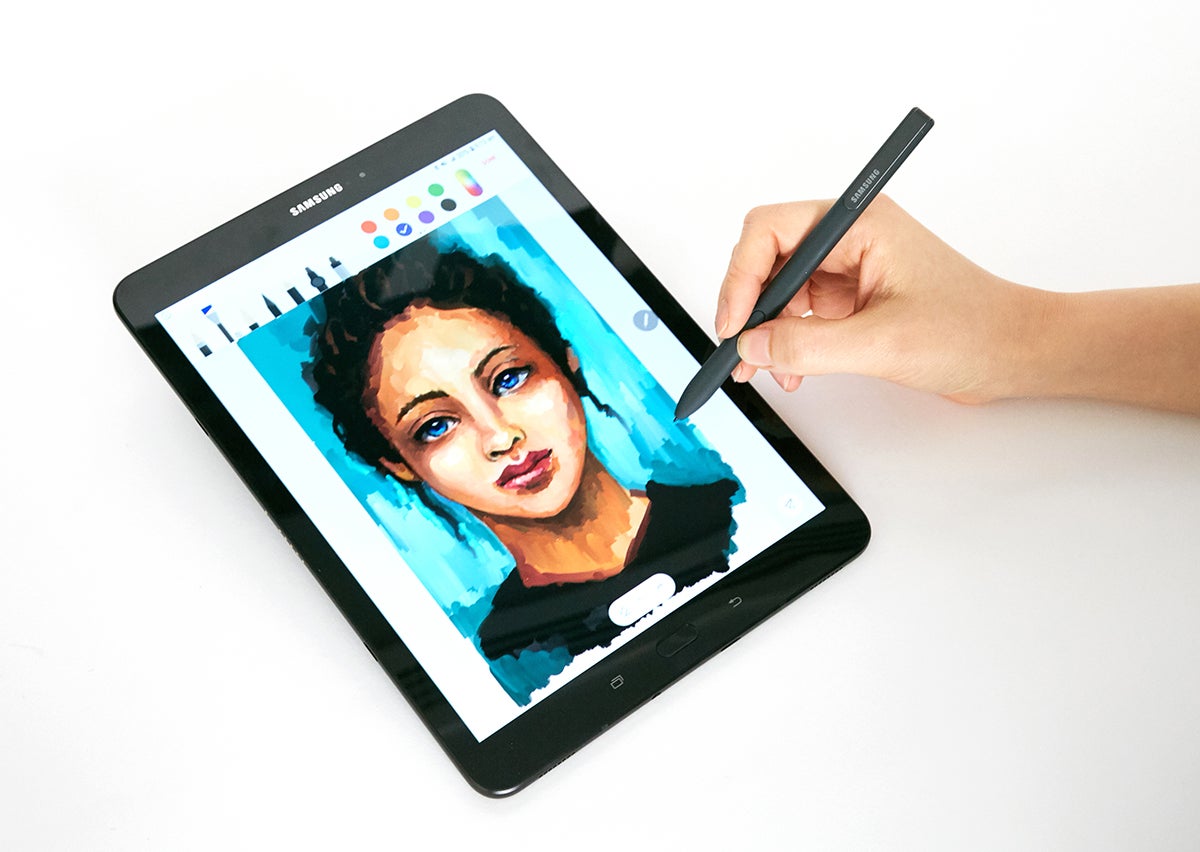 What's cool about the Tab S3 is that we get stereo sound back. The original
Galaxy Tab S
had stereo speakers, but Samsung omitted the feature from the re-designed Galaxy Tab S2. Now, it's back, and with a quad speaker setup to boot! Not only that, but the sound has been fine-tuned by the audio wizards over at AKG, so we have high hopes for crisp and loud audio from Sammy's new slate. As for cameras, we've got a 13 MP snapper at the back and a 5 MP selfie camera on the front for those Skype calls.
The data port on the bottom is of the reversible USB Type-C variety, and we have a headphone jack in case you were wondering.
Keyboard and stylus

The Galaxy Tab S3 comes with an S Pen out of the box. That's the stylus, which has been developed for and made popular by the Galaxy Note series phablets. It carries over all of the features that an S Pen user would be familiar with — the Air Command menu, dragging, highlighting, selection, handwriting, native palm rejection, and all the good stuff that makes it an awesome stylus. Note that there is no slot on the actual tablet to keep the S Pen in, which is a bit of a downer.

There will also be a separately-sold keyboard for the Tab S3, which is also a cover-type case — similar to Microsoft's and Apple's cover keyboards for their own Surface and iPad Pro models. The Samsung keyboard latches on to the tablet via a special docking port, which is placed on the slate's left frame and is instantly ready for use. It's just keys, though, don't expect a touchpad or other such crazy features.


Price and release

At the moment, we have no price or definite release date for the Tab S3 to share, so stay tuned!