A new French word has been created: "textopornographie"
5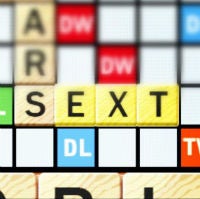 If you know much about the French language, you probably know that the French really hate to borrow words from other languages. Unlike English, where we will borrow words, massacre the pronunciation and call it a day, the French prefer to engage in a good bit of neologism, or the practice of creating new words. The newest of which is "textopornographie". We'll give you one guess what that is supposed to mean.
France loves its neologisms so much that it has a full commission to deal with creating new words - Commission Générale de Terminologie et de Néologisme. The theory is that more borrowed words makes the French language... well, less French, and that just isn't acceptable. So, the newest change is to rid France of the words "sexting" and "sext" with "textopornographie" and "sexto" respectively.
Sometimes the changes are necessary to avoid confusion, for example the word "chat" had to be changed to "clavardage", because "chat" in French means "cat". Of course, how much the public actually changes its habits is completely separate from what the Commission says. For example, the Commission has also tried to scrub the term LOL (laugh out loud) in favor of MDR ("mort de rire," or "dying of laughter"), but if you check Twitter, there are still plenty of French tweets using LOL.