A bunch of new Lumias might be arriving with WP 8.1, including a global version of Verizon's Icon
13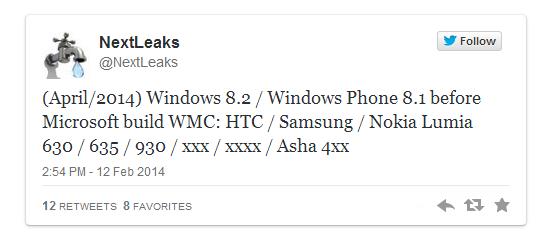 A bunch of new Nokias are coming down the pipe, if you are to believe some leaky tweets. Two of those in particular have caught our attention, as they list specs very similar to the
Lumia Icon
, announced yesterday as a Verizon exclusive. Lumia 930 is shown with a 4.5" instead of a 5" display, 16 GB of storage instead of 32 GB, but with a microSD slot, and a larger, 2700 mAh battery, compared to Verizon's Icon. Another possible Lumia gets even closer, sporting a Full HD 5-incher plus a hearty 3000+ mAh battery, and more storage.
Lumia 1820 also deserves attention as a successor to Nokia's first phablet, listed with a frontal camera of the PureView variety (that would be a first), and arrival in the spring. Last but not least is the 630, which sports pretty decent midrange specs, and is likely a
Lumia 620
successor. It looks like the
Windows Phone 8.1
unveiling in April won't have a shortage of new phones with the version to show up, and these have probably been in the pipeline before Nokia got gobbled up by Microsoft. Here's the full scoop.
Nokia Lumia 930: Quadcore 2.2GHz, 2 GB, 16 GB, microSD, 2700mAh, 20 MP, 4.5inch, 1920x1080p
Nokia Lumia Icon US: 2410 mAh, 32 GB only
Nokia Lumia xxx: 5inch (1920x1080p) 32 GB, SDXC, 21 MP, 3xxxmah 2 GB RAM, Quadcore 2.3 GHz
Nokia Lumia 1820: 04/14 or 05/14, 32/64GB, frontcam pureview, maybe MWC
Nokia Lumia 630: 4.3″ WVGA, 8GB+SD, 1 GB RAM, 8MP, 2000MAh, Dualcore 1.7 GHz