'A battery is like a bomb': check out how LG tests the G6 before letting it out of the door
10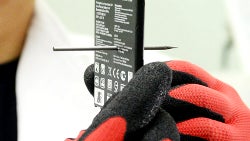 Armed with Samsung's
Note 7
experience, LG has embarked on a heavy production testing spree for the
G6
, and we strolled their lab facilities where the phone is put through its torture paces not long ago. LG says that it ships 50,000 G6 units a day now, and has put safety as a first priority for every single one of them. We know you are most interested in how the battery holds up to pressure, but LG does other things to the G6 as well, like water-resistance probes, or controlled drop tests where the phone falls from waist heights on steel, wood or carpet floors, and the results recorded by cameras lying around for further examination.
When it comes to testing the batteries that go into LG's seasonal flagship, the company leaves nothing to chance. "
A battery is like a bomb. We do these tests to prevent injuries to people even if the battery explodes
," according to Kim Sung-woo, a chief engineer in LG Digital Park, where all the tests are carried out. The goal is not only to check whether the battery will explode under the most extreme of circumstances, but also to limit the eventual damages. That is why the pack is put into fire, and its bursting recorded - if the debris don't fly out uncontrollably, but rather the unit just pops open, then the test is passed.
LG also drives nails through the battery pack to make sure that if your house pet, for instance, bites and pierces the handset, it won't wallop into flames. Then there is the impact test - a battery unit sits lonely on an iron rod, and a big 9-kilo weight falls on it from a great height - if the pack gets smashed, but doesn't explode, then the assembly is fine, and the battery design is good to go into your trusty G6. That 8-point testing system that Samsung boasts to have implemented after the Note 7 mishap, has apparently been running for a while at LG in a similar fashion, so check out some pics of the G6 testing routines in LG's Digital Park labs below.