A Sprint iPhone could sell 6 million units next year, says analyst
31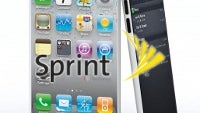 Extrapolating from Verizon's 11% iPhone penetration since the iPhone 4 appeared in its portfolio, Gene Muster from Piper Jaffray concludes that the
rumored appearance of the next iPhone on Sprint in October
could net Cupertino 6 million units sold in 2012.
Granted, Verizon was all about Android until recently, and Sprint not so much, although it does carry the latest and greatest handsets with the green robot, so the number might be even larger than this 6 million iPhones prediction.
Using this working number, though, the analyst also calculated that the iPhone appearance on Sprint's network would boost Apple's growth from 30 to 37%.
Sprint was having issues this last quarter with customer churn and a wider loss
, so the iPhone arrival might be just what the doctor ordered to keep subscribers happy.
via
AppleInsider