A 64-bit Xiaomi phone passes through AnTuTu confirming specs, is likely the 2015 Redmi 1S successor
5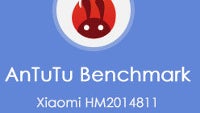 The rumor mill has been going crazy with the Xiaomi gossip, giving us reason enough to believe that up to two new, low-cost Xiaomi devices are on their way to market. The first one is a super cheap device (allegedly, as cheap as $80), while the other, which is the topic of today's discussion, is the successor to the Redmi 1S.
Caught by the folks behind AnTuTu, who are always on the look out for new device entering its database, have spotted a Xiaomi device codenamed HM2014811 sneaking through its benchmarking suite. As always, when caught, such passes leave a telling tale, so we have good reason to believe that we're, indeed, looking at the 2015 Redmi 1S successor.
So what do we got? To start off, the supposedly 4.7-inch device has the same resolution of 720 x 1280 (which would come out to 312 ppi) and is powered by 1GB RAM and a quad-core, LTE-enabled Snapdragon 410 processor with an Adreno 306 GPU. This is one of Qualcomm's new, 64 bit-enabled chips, and has a clock of 1.2GHz per each of its four ARM Cortex-A53 cores. The Android 4.4.4 KitKat-touting HM2014811 also makes use of a duo of 8MP/2MP cameras at the back and front, respectively.
In all, this wouldn't qualify this as a major update, but perhaps Xiaomi has something else up its sleeve to spice up the offer. For the time being, however, we'll have to wait for the Chinese superstar manufacturer to get on with it and unveil the device first.