A $12500 SafeCell app brings phone signal to your private jet
1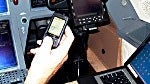 After developing the
aircraft Bluetooth Access Point
, the folks over at ASiQ realized that most planes already have some sort of an inexpensive satellite link onboard, as well as a computer, be it just the pilot's laptop. Therefore they created a piece of software, which connects the two, beaming mobile voice and data capabilities to your cell phone via Bluetooth.
The proprietary software will be sold in the form of a
SafeCell
application for BlackBerry, Symbian, and, soon, Android devices, at the whopping
$12500
price tag. If you don't have the satellite link gizmo, ASiQ will sell you the aforementioned Bluetooth Access Point device for $10000 more. Still, a far cry from the
few hundreds thousand dollars
a conventional aircraft mobile phone system usually costs, at a fraction of the weight.
The cherry on the cake - the
Iridium system
connects you directly to the available satellite ground stations, circumventing the mobile roaming networks, and allowing for the cheap
$1 per minute of talk time
, instead of up to $5 when roaming. Not that you will be nickel-and-diming your phone bill, if you can afford a jet, but still a nice perk.
The $12500 cost probably makes the SafeCell the most expensive application to date, but considering the alternative solutions, ASiQ claims it's pretty cheap. Oh, and for iPhone users -
Apple's Bluetooth stack
there is too restrictive, so configuring the software for iPhone usage will cost you extra, but it's doable. Too bad, but you can have your own choice of smartphone and a noise-cancelling hands free kit for free, as a bonus with each unit of the SafeCell app, purchased by January 30th. We'll review the application as soon as the corporate jet arrives from the factory. Hey, it's the holidays, anything can happen!
source:
ASiQ
via
Thinq