75% of the world's population owns a cell phone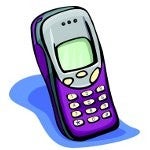 According to a new survey by the World Bank, around
75% of the world's population now owns a cell phone
. That's some quite impressive penetration rate, if you ask us, although we'd love to see this number climb up to as much as 100%!
Meanwhile, all these phones around the planet account for the over
6 billion mobile subscriptions in use
currently. With the population of the world estimated at around 7 billion people, it quickly becomes apparent that there are quite a few people out there with more than one subscription. Now, it's just a matter of time before the number of total subscriptions in the world surpass the number of people, which doesn't mean much (except for the fact that people love phones), but it's still interesting to know.
Interestingly of all 6 billion active mobile subscriptions, it turns out that 5 billion are in developing countries. Obviously, people from those markets are using their handsets for more than just talk and text. According to the report, users are taking advantage of their mobile devices to start and manage new businesses and enhance their lifestyles, while their governments are using mobile technology to improve important stuff like service delivery and citizen feedback mechanisms.
There are some wonderful examples of how mobile technology can improve our lives dramatically. Not that we didn't know it, but it's good to remember it from time to time, isn't it?