$74 billion of transactions to be covered by NFC mobile payments by 2015 says Juniper
4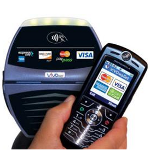 A new study done by Juniper Research estimates that by 2015,
NFC mobile payments will cover $74 billion worth of transactions
. That would be three times the size of the NFC payments made last year as the use of smartphones as a mobile payment tool is one of the fastest growing segments in the mobile payment industry. And it is not just NFC use that is expanding rapidly. Smartphone owners more and more are using the device as a mobile coupon, a portable banking center, to make non NFC-related payments and as a money order on the go.
Juniper sees the money transfer, physical goods, NFC use and coupon segments of the mobile commerce market tripling in use over the next three years. The digital goods, banking and tickets sectors of the market will show slower growth, but still double in valuje over the same three year period. For this wide spread use of mobile payments to occur, Juniper says that
security needs to be of the utmost importance
in the mind of those companies involved in mobile commerce. A perceived risk of security leaks could set back the market just as seriously as a real security problem.
Juniper's report also noted that the key to getting widespread use of mobile banking applications is SMS. Juniper also said that without interoperability, mobile money transfer services won't get the number of users it needs to survive. And while mobile coupons is the smallest segment of the mobile commerce market, it is the
fastest growing one
.
More smartphone manufacturers and carriers are including NFC as a regular feature.
BlackBerry has done so for some time now
, and in January Sprint said that
most of its new LTE models would come embedded with NFC
. Last month, we told you that the low-end ZTE Orbit could be the
first Windows Phone model to sport an NFC chip
.
How many of you have used your smartphone as a coupon or to conduct banking transactions? Let us know by leaving a comment in the box below.
source:
JuniperResearch
(subscription req'd) via
FierceMobile