7 health and wellness apps you should check out even if you are not a fitness buff (Android)
11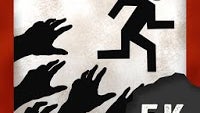 Let's face it – a lot of guys that are into tech, high-class smartphones included, are often not interested in hitting the gym or going out for a hike or run. Now, this is not due to negligence or unwillingness to look after themselves, rather – forgetfulness, lack of a habit to exercise daily, being daunted by what seems like an overwhelming process, a lot of diet information to take in, or any mixture of these. That's why many may find themselves scratching their heads as manufacturers pump out premium flagships with fitness tracking capabilities and niche wearables that measure and log heartbeat, steps, et cetera.
But as we said – lack of will is not one of the prime issues here and thanks to the aforementioned new technologies and some imaginative app developers, even the most devout couch potato has the tools they need to start taking care of their body one simple step at a time, while, hopefully, changing their health lifestyle for the better.
So, we present you seven great health apps that will hold your hand through some basic steps you should take if you decide that you need to get in better shape, or at least feed / hydrate yourself better.