6% of Apple iPhone 6 owners have used Apple Pay, 85% haven't touched it
37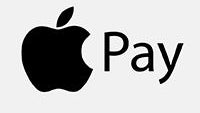 A recent survey of
Apple iPhone 6
users have found that 6% have used mobile payment system Apple Pay. 85% say that they haven't even touched the feature, while 9% admitted to experimenting with it. The latter group stated that they either forgot how to use it, or did not know where Apple Pay was accepted. To help those remember where Apple Pay can be used, the company is now offering a new decals pack for merchants.
The decals come in two sizes for application on a cash register, and two sizes for the glass window in front of a retail store. Apple sent out guidelines with the decals that recommends that they be placed in prominent areas. The tech titan suggests that the decal for the front window be placed at least 50 inches off the floor. If other payment decals are already displayed, Apple suggests putting the Apple Pay decal first.
With only 6% of iPhone 6 owners using the mobile payment service, it leaves plenty of upside for the feature. The Apple name has helped the entire mobile payment sector receive more scrutiny from smartphone users. In the last few weeks,
Samsung started its own mobile payment service
and
purchased LoopPay
. Google, for its part,
purchased the technology and IP belonging to Softcard
in an effort to enhance the capabilities of Google Wallet.
source:
AppleInsider