6 interesting Snapdragon-powered smartphones that most people don't know about
31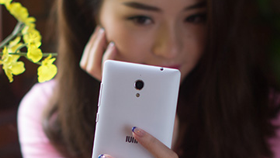 If you go out and randomly buy a high-end, mid-range, or low-end smartphone that runs Android or Windows Phone, chances are that this has a Qualcomm system-on-chip inside. That's because Qualcomm is the world's largest maker of mobile chipsets, and its Snapdragon SoCs are powering the majority of today's most popular handsets.
The first Snapdragon chipsets - QSD8250 and QSD8650 - were introduced in 2008, and we can still find them in once-famous handsets like the Nexus One, the first HTC Desire, or the Sony Ericsson Xperia X10. Since then, every relevant smartphone maker (except Apple) has used Qualcomm's Snapdragon solutions.
But besides the Snapdragon-powered devices made by Samsung, LG, Sony, HTC and other well-known brands, there are also handsets that most people haven't heard of. Some of them are really interesting, so we decided to present them in this article. In no particular order:
The
IS12T
was the very first water-resistant Windows Phone, as well as the first to feature a 13 MP rear camera. It sports a 3.7-inch display with 480 x 800 pixels, being powered by a single-core Snapdragon S2 (MSM-8655) processor clocked at 1.0 GHz. Because it was released in 2011, the Fujitsu Toshiba IS12T didn't run Windows Phone 8, but Windows Phone 7.5. The handset was available to buy only in Japan.
YotaPhone 2
is a smartphone that hails from Russia, and comes as the successor to last year's
YotaPhone
. The interesting thing about the YotaPhone 2 is that, just like its predecessor, it offers two touchscreen displays: a regular, 5-inch AMOLED one with 1080 x 1920 pixels, and a 4.7-inch e-ink one with 540 x 960 pixels on the back. The handset uses a quad-core Snapdragon 800 processor, and should be available in select markets (apparently including the US) starting the fourth quarter of the year, running Android KitKat out of the box. You can find out more about the YotaPhone 2 by checking out
our hands-on here
.
IUNI U3
The
IUNI U3
is a China-exclusive handset that aims to directly compete with LG's G3. Just like LG's high-end smartphone, the U3 sports a 5.5-inch display with 1440 x 2560 pixels, and features a quad-core Snapdragon 801 processor, as well as 3 GB of RAM. The U3 is made out of metal, and is about 1 mm shorter than the G3 (which is really compact itself for a 5.5-inch device). The IUNI U3 also comes with a 13 MP rear camera, and a 4 MP UltraPixel front-facing camera (huh, we thought UltraPixels were an HTC-exclusive thing).
Sharp Aquos Phone The Hybrid 007SH

We know, that's quite a weird name, but the Sharp Aquos Phone The Hybrid is a smartphone made for Japan, so perhaps that explains everything. Naming aside, the 007SH is water-resistant, and was the world's first Android handset to pack a 16 MP rear camera. It's actually a clamshell device that features a 3.4-inch display with 480 x 854 pixels, plus an external OLED screen. Released in 2011, the Sharp Aquos Phone 007SH has a Snapdragon S2 processor inside.

The Android-based Highscreen Boost II is another handset made by a Russian company, and it features a quad-core 1.2 GHz Snapdragon 200 processor. It was released last year in two versions: one including a 3000 mAh battery, and another one offering a huge 6000 mAh battery (which, of course, makes the device quite bulky). Other features: 5-inch display with 720 x 1280 pixels, 8 MP rear camera, 1 GB of RAM, and 4 GB of expandable storage space.
Doov T90
Most mid-end smartphones made in China use MediaTek processors, but not the Doov T90, which is powered by a quad-core 1.2 GHz Snapdragon 400 processor. This is a handset that's specifically targeted at female customers, coming with a "very delicate and lovely" Android-based UI that includes lots of apps like Virtual Wardrobe and Virtual Makeover. That aside, the Doov T90 seems to be a decent smartphone, featuring a 13 MP rear camera, 5 MP front-facing camera, a 5-inch 720p display, and 1 GB of RAM. (Images via
Yesky
).