5G download speeds aren't worth their price premium (results)
11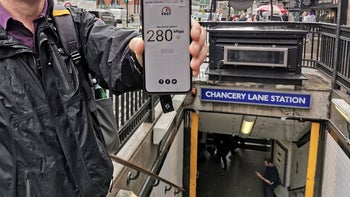 The
OnePlus 7 Pro
5G just went on sale in the UK last week, and the real-life download speeds in the initial user tests turned out commensurate with the
peak speeds achieved on commercial 4G LTE networks
. The other notable advantages of 5G networks such as low latency and less congestion aren't that visible for the average user, and that is why we asked you if you think that the speeds that the
OnePlus 7
Pro 5G managed to produce are worth the difference in plan and phone prices.
Unfortunately, about two thirds of our respondents think that paying more for the 5G privilege doesn't seem to be worth it right now, in light of the test results. In the US,
Sprint went out and lit up its 5G areas
last week, but boasted about coverage, while noting that the average download speeds are expected to be above 100 Mbps.
That's still a lot faster than the average 4G speeds in the US, and yet the phones that can take advantge of the scarce 5G presence are few and far between, which may explain our poll results you see below.
.
While it may have come as a surprise for OnePlus fans that two very different models were just released - the 7 and
7 Pro
- it shouldn't have been for everyone that has followed the recent developments in flagships and 5G-capable phones.
Apple issued three phone models at once last year, Samsung followed suit with four, including a 5G version, and Huawei has three members of the new
P30
family, while LG makes do with "just" two models as well.
That's exactly the strategy that OnePlus seems to be pursuing, equipping the 7 Pro with not only a 5G modem version, but also a huge battery and a unique selling point in the form of a high-res display that sports 90Hz refresh rate, up from the usual 60 frames per second on most phones.
The aforementioned OnePlus
7 Pro 5G
will be exclusively sold by the EE carrier in the UK, and its 5G network rollout just went live yesterday, along with the phone. The prices for the OnePlus 7 Pro and its current versions are now as follows:
6GB RAM/128GB storage: $670 in US / £649 in the UK


8GB/256GB storage: $700 in US / £699 in the UK


12GB/256GB storage: $750 in US / £799 in the UK


OnePlus 7 Pro 5G model: n/a in the US/~£999 in the UK, starting from £59/month with a 10GB 5G plan and £170 down payment


Suggested OnePlus 7 Pro 5G plan: £69/month with a 30GB 5G plan and a £50 down payment
Compared to the other 5G pjhones on the network, like the
Samsung Galaxy S10 5G
or the
LG V50
, it's about 20% cheaper, and on par with the pricing of the other Chinese 5G juggernaut there, the
Oppo Reno 5G
.
While you can grab the 7 Pro 5G for about a grand ($1250) and bring it to the EE network, it won't be as optimized for 5G connectivity compared to the carrier model and that one isn't sold without a plan, so pick your poison. What kind of speeds do you get for this kind of dough?
Well, EE's 5G network is more extensive than Verizon's offering here in the US, as it covers the hot spots throughout London and other major UK cities and yet is far from comprehensive coverage. Besides London, the 5G lights will be turned on in Belfast, Birmingham, Cardiff, Edinburgh, and Manchester this year, followed by Bristol, Coventry, Glasgow, Hull, Leeds, Leicester, Liverpool, Newcastle, Nottingham and Sheffield. EE 's goal is to have more than 1500 5G sites available by the end of the year.
People have been posting their 5G download speed results with the UK's first 5G handset that is commercially available to buy, and some have experienced peak speeds of just under a gig. Most have been reporting half that amount, with the average speeds being about 200Mbps and change.
That's still way faster than their average 4G LTE speeds, but let's not forget that their OnePlus 7 Pro has been the only 5G phone currently on the network at places, as there simply aren't other 5G phone out there. The phone switches in and out of the 5G network effortlessly, turning into a 4G LTE machine where the 5G blanket is not available.
Users also didn't notice any significantly higher toll on battery life, which is an encouraging sign, as these early 5G phones don't have a true integrated chipset but rather tack on extra power-hungry modems to hook up to the nascent next-gen networks.